Foam Props for film, theater, magic tricks, and gags.
Super Soft Foam
Soft Foam
Super soft squishable foam rubber props used for magic productions or gimmicks.
The Egg is a great prop for your magic, lightweight and unbreakable.
The doughnut can be compressed into a small area and will pop back into shape when released, around 4″ in diameter.
The Light Bulb molded from a standard light bulb is great for a tossing gag.
Frogs, very cute, random colors.
The Baseball is molded from an actual regulation pro baseball.
My Right Ear  is a foam prop from a mold of a real ear used as a comedy prop.  Other colors available. Contact.
Soft foam rubber props used for magic, stage, and film.
Realistic Walnuts.
The third hand, knife not included, is used to replace your right or left hand while your real hand does the dirty work. Other colors available. Contact.
The classic Cigar & Mustache is back. Made from foam and ready to make people laugh.
The Foam Hammer is realistic even up close and has a wooden dowel inside to keep it from drooping. 12+" Long.
The Wrench is realistic and has a very tiny carbon fiber rod to keep it erect. 12″ Long.
The most realistic looking foam Brick  on the market, 100% soft foam rubber. 9″ Long.
The Juggling Axe is a copy of a popular axe and made of soft foam with a skeleton structure inside.
The blank Baseball Bat is soft foam rubber regulation baseball bat with a wooden dowel inside.
The Bendable Magic Wand is a denser foam rubber wand with a bendable wire inside. Great comedy gag for magicians and clowns.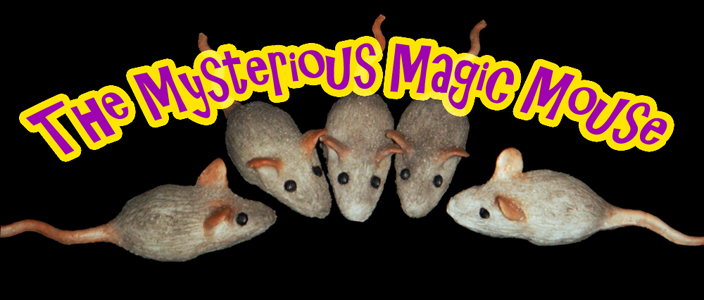 It's the next generation of the Wonder Mouse. This time it's more realistic and it's the Mysterious Magic Mouse. Lighter, more realistic, and just better all the way around. Made from a super light foam rubber, 3 1/2″ long with tail, and cute as ever.
The Mysterious Magic Mouse comes with the mouse, the special gimmick, and instructions explaining everything you need to know, and it's ready to go "out of the box".
The Remarkable Running Rat is the larger foam version of the mouse, instead there is no gimmick. The body is five and a half inches long, plus the tail. The perfect size for the 'Hank Mouse' sleight of hand techniques. You can also add a slit in the foam on the side for thumb puppetry work.
Check the shipping rate here.