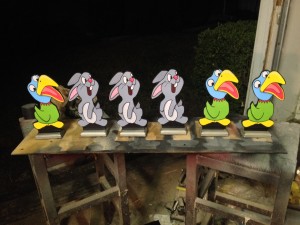 I don't like to bloat, but I can find many people who are willing to argue that my version of the Hippity Hop Rabbits, is the best ever. Just look what Doc Grimes had to say about them…
"Superposition" is simply the cleverest and most engaging revolution of the classic 'Hippity Hop Rabbits' illusion on the market and perhaps ever invented. It has earned a permanent place in the beginning of every children's show we perform at Main Street Magic and Fun Company, and as the resident house magician, I cannot imagine ever dropping it from our performance set. The props are exceptionally well-made, and the complementary animal components lock securely into place, avoiding any miscues in handling. From transfiguration to transposition to transformation, young spectators follow, without confusion, three different stages of irony and surprise. The final effect is the very definition of magical shock and awe! Children's mouths fall off their faces with the final transformation, and parents sitting behind them in our 'Magic Attic' theater break into spontaneous applause.
This review has been unsolicited but most deserved. Congratulations, Randi Rain! And thanks!
Doc Grimes
I just got back from TAOM where I actually oversold out of them.
Which means I have some in stock, but not as many as I would if I didn't.
Some of these are already claimed.
At TAOM, the Hare and Bird Superposition's sold out… oversold out, the first day within a few hours.
These are all made handmade. Some times they come out better than others. I am proud to say that this is the best bunch so far. Little changes were made to the construction of the boxes that I really like.
If you were ever on the fence for this trick, this is the time to pull the trigger.
Limited quantity though, and they will go fast. They are quite possibly already gone by the time you read this.
But you never know, you might get lucky… You can order then here…